Cat Cartoons
Funny Gifts

I thought I'd give a brief outline of my recent comic art creation.
I drafted my pic on quality A4 paper in pencil first then used Faber Castell Pitt Pens (Fibre tip black pens) to colour the final lines. I don't erase the pencil lines or pencil errors because these do not show up on the scan.
I scan the images in black and white, resolution 300dpi.
Once the image is scanned I edit the image digitally to add more effects, features, straighten lines and so on. I generally use Pixia (free digital art program) to shade and edit my images.
When shading and editing is completed, I reduce the size of the image to website size, which is around 640 x 400. I might amend the colours by adjusting the 'temperature' setting. I also do any cropping that needs to be done.
Where some comic panels require the same image I crop the image and then merge it with other images.
The strip below was created over three days. It is more time consuming that one might imagine!
The longest part of the process for me is the technical side of things, the scanning and so on. The quickest part is perhaps the pencil draft of the image. Shading in black ink can take a while as I like to use fine nibs and thicken the lines manually by hand.
This pic I didn't shade in ink, because I was intending to draw the entire image digitally, so I used the pencil draft as a template only.
This is the first digital draft.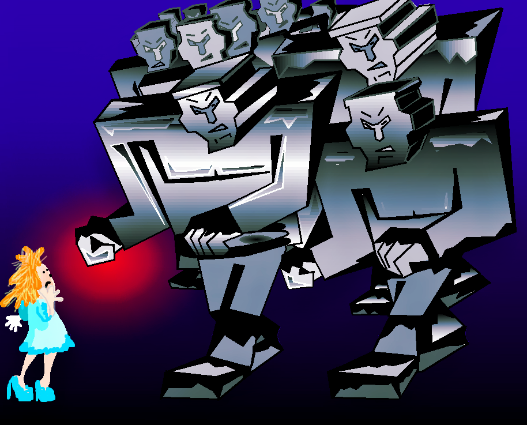 This is my edited draft. I didn't like the girl I created digitally (too cartoony) so I edited her out and edited in the hand drawn fearful girl image.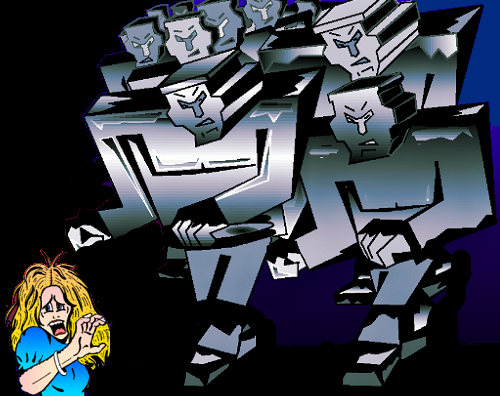 This is the final comic strip.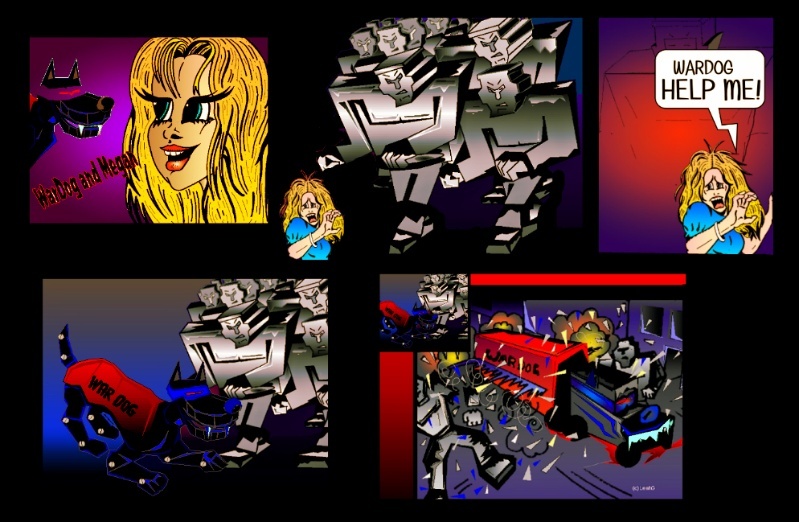 The second girl was a much more effective choice, Leah......you're sure got the hang of this cartooning lark! Good to hear your working practises, I'm not familiar with 'digital drawing': I assume you mean this is drawing by tablet [I haven't got one but fancy getting the small A6 Bamboo Viacom cause apparantly that's all I need]
Thanks Rob.
I do have a tablet, but I prefer to use the mouse. I find it much easier. Digital drawing for me is anything I draw using the pc. Although I am of course still drawing by hand!!

I looked into Bamboo Wiacom on youtube and it loks very different to drawing by hand...it takes at least two days to get used to it, apparantly.

What I want Bamboo Wiacom really is for drawing in coloured lines.....blades of grass in detail, or coloured lines around characters or objects [for example a blue or even white line around a polar bear] ----doing this by mouse is very tricky, and stiff-looking .

Do you know of any other ways around this problem...ie, using the computer to change specific lines from inked black to bright colours?
If your outer lines are thick enough, you can change the colour by selecting them with your paint bucket and then added the desired colour.
Sounds interesting, Leah......I use thick lines deliberately, so it could well work for me. Do you just click directly on top of the black lines to change their colour? [sorry it sounds like a silly question].
Yep. I did it in this cartoon (drawn today)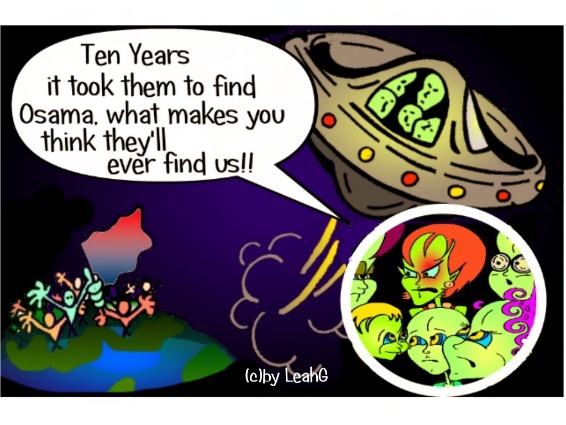 The grey cloud like swirls under the flying saucer were inked in black. Then I made them yellow (using paint bucket fill ) so I could still see them clearly when I filled in the background with black. Then I made them grey.
Looks like it could work for me, Leah...certainly worth a go. I assume that's how you did the white circle as well [handy for colouring the outer circles of bubbles, amongst other things!


Nicely effective cartoon, by the way. There's also a tool you can use for 'gradiated white speed lines' to suggest motion, the white 'blur-lines' actually fade as you move the cursor...very effective, I've tried this one.
Leah...I just tried a test in GIMP 2 with the changing colour lines with the bucket-tool: it seems to work, so here's hoping I can utilize this...I'm sure it will work in certain situations.


Learned something new today........great stuff!
The white circle was edited in later.
The alien faces I drew as a seperate picture. I was wondering what I could use it for when I came up with the Osama gag. So I then drew the saucer and the planet.
I then edited in the alien pic and added the white circle. This was done after I had already shaded the background to the saucer pic in blue and black.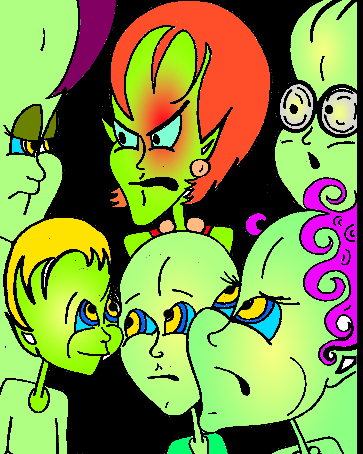 The great thing about doing things digitally is you can 'edit'. You can use existing images more than once for a variety of cartoons if desired and so on. Duplicate them, turn them around (mirror feature) and so on. It really is massively useful.

---
Permissions in this forum:
You
cannot
reply to topics in this forum