Cat Cartoons
Funny Gifts
These are a couple of scenes from a dream I had years ago. I am drawing scenes from my dreams as webcomic art practice.
This pic depicts the leading lady as she looks in horror at her hands and feet and sees she is covered in blood. She doesn't know where it came from, how it got there. Most importantly, she doesn't yet know she is now dead!
The pic was initially a simple line drawing. I then shaded it and converted to a vector drawing and added some filter effects.
Last edited by Leah-Admin on Sun 22 May - 0:33; edited 3 times in total
Making a webcomic will give you LOTS of practice. I prefer one panel cartoons because they're easier to create.

(And I'm a little lazy.)
You can say that again. I start with good itnentions and then think....how to heck am I going to do the next panel?

I need to redo the second image...not quite as I want it to look. I think this'll be a very long process!

Pic 2 redrawn
Why does she suddenly wear different clothes?
I've got another pic where she's in pink.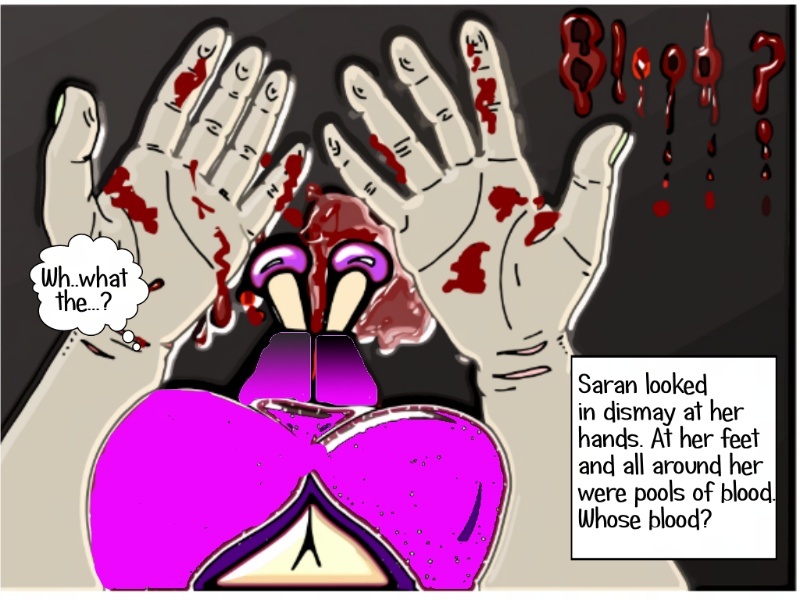 I prefer the other colours though. Meanwhile re girl in pic 2...
Pic 2 was made up of three seperate pictures. I drew one re the background (room), one re the angel coming through hole, and the girl I finally used was a girl I drew for another pic (robo alien and damsel in distress). Such is the beauty of vectors! I used the same girl for both pictures and no doubt will use her again.
Meanwhile I have decided I haven't the stamina to finish a webcomic regarding a single theme, so instead I am going to simply draw various 'dream' scenes for practice and not try to put them in any order.
This is the latest...
He looks more like how I'd have liked the angel in pic two to look...aside from the suit because in my dream he was wearing a suit not a set of wings...sadly...

---
Permissions in this forum:
You
cannot
reply to topics in this forum